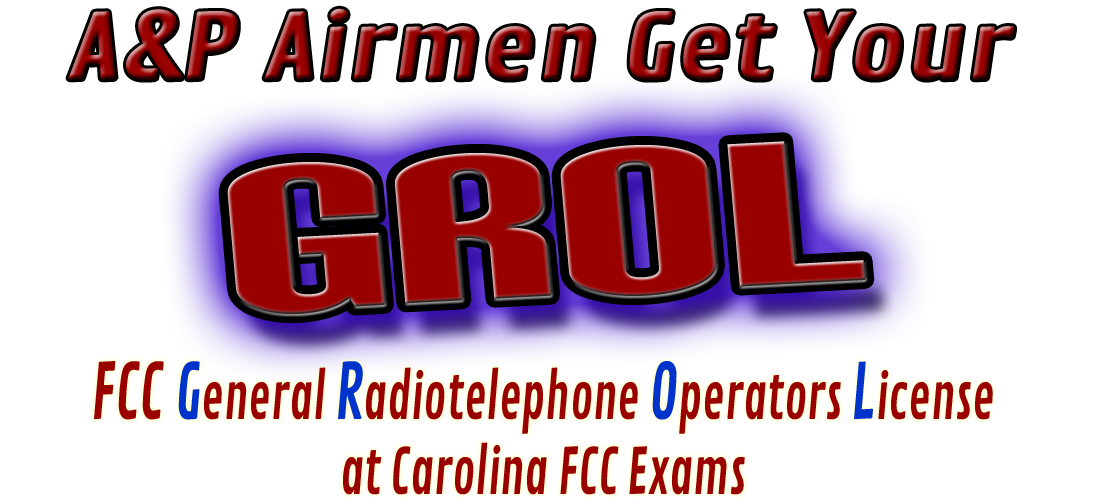 This is the same FCC license needed to fulfill your Airframe/Poweplant Certification. We issue at exam completion, a 'Proof of Passing' Certificate. There is no difference in this license certification from any you might receive in an A/P Tech School or program.
EXCEPT THE PRICE!
It's a GROL that's all you need to know. There is no special GROL for AIRMEN, or Mariners, or radio Technicians, they are all the same! 
You will receive an official document from the FCC in the mail within a few weeks with your final license information.
Airmen, in order to fix radars, aircraft radios, and transponders in todays aircraft, the FCC requires you to hold a GROL license.
AND, if you hold the license, you can supervise (unlicensed) Technicians performing repairs as well.
You can be employed as an avionics technician if you hold a valid GROL license.
NOTE: YOU MUST BE must be a legal resident of United States or eligible to work in the United States.
Get your Results immediately! Walk out with your Certificate of Passing, and get your FCC forms and license processed with care. Within 1-2 weeks, you can download and PRINT a VALID OFFICIAL copy of your license from the FCC ULS database.
After passing your examination you will WALK OUT WITH A CERTIFICATE OF PASSING CERTIFICATE and be fully licensed to start working immediately.
We can administer all FCC Commercial Radiotelephone examinations and endorsements.

Acceptable Documents for Identification: (2) FORMS OF ID BELOW ARE REQUIRED with (2) copies of each at the exam:
ORIGINAL SSN CARD
US STATE DRIVERS LICENSE with PHOTO
Birth Certificate
US PASSPORT (not expired)
MAKE SURE YOU:
Have the correct documents to identify yourself.
Bring (2) copies as well as the original document to show us at the exam. If you do not have (2) copies as well as the original document, your exam can not be administered.
MROP (MR), GROL (PG), GMDSS/M (DO), GMDSS/O (RG) AND RADIOTELEGRAPH(T), AND ALL ENDORSEMENTS have this documentation as a requirement. This requirement is for commercial FCC licensing, not Amateur Radio exams.
Ready to Schedule your Exam?
Elements 1 & 3
General Radiotelephone Operator License (PG)
Description
A PG, or GROL, is required to adjust, maintain, or internally repair FCC licensed radiotelephone transmitters in the aviation, maritime, and international fixed public radio services. It conveys all of the operating authority of the MP. It is also required to operate the following:
any compulsorily equipped ship radiotelephone station operating with more than 1500 watts of peak envelope power.
voluntarily equipped ship and aeronautical (including aircraft) stations with more than 1000 watts of peak envelope power.
---
Qualifications
To qualify, you must:
be a legal resident of (or otherwise eligible for employment in) the United States; and
be able to receive and transmit spoken messages in English; and
pass a written and/or telegraphy examination(s) as described below under Examinations.
Written Examination Elements
Element 1 – Basic radio law and operating practice with which every maritime radio operator should be familiar. To pass, an examinee must correctly answer at least 18 out of 24 questions.
Element 3 – General Radiotelephone. Electronic fundamentals and techniques required to adjust, repair, and maintain radio transmitters and receivers. The exam consists of questions from the following categories: operating procedures, radio wave propagation, radio practice, electrical principles, circuit components, practical circuits, signals and emissions, and antennas and feed lines. To pass, an examinee must correctly answer at least 75 out of 100 questions.
---
Term of License
A PG is issued for the holder's lifetime.
---
How to Obtain a License
Submit FCC Form 605 along with the appropriate Proof of Passing Certificates (for the requisite written examination elements). Use the FCC Form 605 and the FCC Form 159 (fee processing form) to replace a lost, stolen, or mutilated license. Many Commercial Operator License Examination Managers (COLEMs) file these documents for applicants who test with them. Ask us about providing this service to you.